At NICT, we have developed numerical human-body models with the aim of evaluating the safety of radio waves with respect to the human body, and are making them available to the public. At present, we provide the voxel human model databases shown below.
Improvements are also being made to these models, such as by adding specific tissues and standardizing tissue weight, for example, and we plan to successively update the database's version. All version updates will be announced on our website, and database users will be contacted by email and other means.
Method of application for use
Research institutes such as universities
Confirm the content of the draft of the database license contract.
Fill in the necessary items in the Usage Application Form.
We will contact you about your eligibility for use. If you are judged to be eligible, you will be asked to go through the database license contract procedures with Intellectual Property Management Group at NICT's Research Promotion Department.
After a contract has been concluded, we will send you encrypted data and a decoding password.
If the purpose of your data use looks like it will not be accomplished by the time the database usage period expires, you may submit a request for extension of database usage before your usage period expires.
If the purpose of your data use has been accomplished, or if the usage period has expired, submit a certificate of database deletion without delay.
Voxel human model database: Usage Application Form
Please fill out the application form. We will email you at a later date to notify you of your eligibility to use the database.
Private-sector corporations (those requesting usage for a fee)
At NICT, we have been distributing, free of charge, the voxel human model database to research institutions such as universities in both Japan and overseas, on condition that they be used for non-commercial or research purposes only. The findings of research using the database released at academic meetings, etc., have attracted the interest of numerous corporations and other entities which until now were not eligible for database offerings. At present, NICT distributes data to corporations and other commercial entities as well, in the hope of having these data utilized even more effectively.
For details on how to apply, the license format and other information, contact Intellectual Property Management Group.
Contact information for the department in charge
Intellectual Property Promotion Office, Innovation Promotion Department, NICT Tel: +81 42-327-5716 / Fax: +81 42-327-6659 / E-mail:ippo@ml.nict.go.jp
Adult male and female voxel models (Taro and Hanako)
Spatial resolution: 2 x 2 x 2 mm
No. of voxels: Male model: approximately 8 million; female model: approximately 6.3 million
Comparison of average physique and model physique
Average
Model
Margin of error (%)
Male
Height (cm)
171.4
172.8
+0.82
Weight (kg)
63.3
65.0
+2.69
Female
Height (cm)
159.1
160.0
+0.57
Weight (kg)
52.6
53.0
+0.76
Average physique: The average values of subjects aged 18 to 30 featured in "The Japanese Body Dimensional Data for Ergonomic Design, 1996," edited by the National Institute of Bioscience and Human Technology, and issued by Japan Publication Service.
The physique of numerical human-body models
The numerical models were compared with the average physique of the Japanese people. Although both men and women showed certain deviations in the diameter of the naval-area abdominal thickness because of differences in posture during measurement of physique (numerical model: supine position; average value for Japanese people: standing position), the results show that the average difference between the numerical model and Japanese people's average physique was below 5%, indicating that these numerical models coincide more or less with the average physique of Japanese people. (The closer to 1.0 the numerical figures in the diagram are, the more similar the two models are.)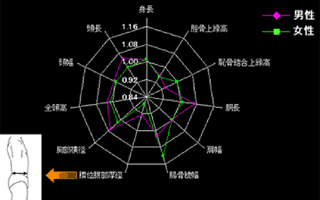 Weight of the tissues and organs of numerical human-body models
Although the organs showed certain individual differences, 60% of the tissues and organs of men and 80% of those of women differed from the average values by within 30%.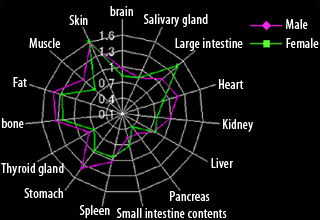 List of identified tissues and organs
Name of tissue
Cerebellum
Esophagus
Uterus*1
Cerebrospinal fluid
Bile
Air (in vivo space)
Cornea
Gall bladder
Blood
Eyeball
Heart
Cortical bone
Gray matter
Kidney
Bone marrow, cancellous bone
Hypothalamus
Liver
Cartilage
Crystalline lens
Lung
Fat
Epiphysis
Ovary*1
Muscle
Pituitary gland
Pancreas
Nerve (spinal cord)
Salivary gland
Prostate gland*2
Skin
Thalamus
Small intestine
Teeth
Tongue
Spleen
Ligament
White matter
Stomach
Small intestine contents
Adrenal gland
Stomach contents
Diaphragm
Bladder
Tendon
Seminal vesicle*2
Mammary fat*1
Testicle*2
Cavernous body*2
Large intestine
Thyroid gland
Vagina*1
Large intestine contents
Trachea
Duodenum
Inside the bladder and urine
*1: Tissue unique to women 2: Tissue unique to men
Female pregnancy model
The female pregnancy model was developed by combining the fetus model, which was produced from an abdominal MRI image of a woman in the 26th week of gestation, with a model based on NICT's adult female model (Hanako) but expanding the abdominal area three-dimensionally to match the body shape of a pregnant woman.
The anatomical validity of this model was confirmed by a specialist physician who provided medical supervision. We have also confirmed that the dimensions of various parts of a pregnant woman's abdominal area, as well as the tissue and organ weight specific to pregnant women, which include those of the fetus, are close to the average values of women in their 26th week of pregnancy.
Spatial resolution: 2 x 2 x 2 mm
Number of voxels: Approximately 7.1 million
Fetus: 26th week of gestation
List of identified tissues and organs
Names of tissues and organs
Cerebellum
Esophagus
Cortical bone
Cerebrospinal fluid
Bile
Bone marrow, cancellous bone
Cornea
Gallbladder
Cartilage
Eyeball
Heart
Fat
Gray matter
Kidney
Muscle
Hypothalamus
Liver
Nerves (spinal cord)
Crystalline lens
Lung
Skin
Epiphysis
Ovary*1
Teeth
Pituitary gland
Pancreas
Tendon
Salivary gland
Small intestine
Small intestine contents
Thalamus
Spleen
Diaphragm
Tongue
Stomach
Vagina*1
White matter
Stomach contents
Uterine wall*1
Adrenal gland
Tendon
Fetus*2
Bladder
Thyroid gland
Fetus' brain*2
Mammary fat*1
Trachea
Fetus' eyeballs*2
Large intestine
Inside the bladder and urine
Amniotic fluid*2
Large intestine contents
Air (in vivo space)
Placenta*2
Duodenum
Blood
*1: Tissue specific to women 2: Tissue specific to pregnant women